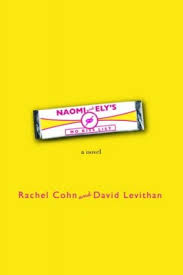 In this second novel collaboration with Rachel Cohn, things become very complicated when Ely kisses his best friend Naomi's boyfriend.
"A witty and highly entertaining exploration of love, friendship, and misunderstanding." – School Library Journal
Naomi <3's Ely.
And she's kinda in love with him.
Ely <3's Naomi.
But he prefers to be in love with boys.
Naomi and Ely are best friends. Inseparable since childhood. Practically soul mates. But just to be safe, they've created a No Kiss List—a list of people neither of them is allowed to kiss under any circumstance. And this works fine—until Bruce.
Bruce is Naomi's boyfriend, so there's no reason to put him on the List. But then Ely kisses Bruce. The result? A rift of universal proportions. Can these best friends come together again, or will this be the end of Naomi and Ely: the institution?